Who is Xinran Xue?
Xinran Xue is
Chinese
-British author, journalist and radio presenter. Born in China, Xinran started her career in radio, as a presenter on
Chinese
Radio. In 1997 she move to Britain and began her career in writing. With six published novels, a regular column for the Guardian and an established charity "The Mothers' Bridge of Love" Xinran is a woman of many talents.
I first came across Xinran Xue when reading her novel, Sky Burial. I've ranted and raved about this book in many a post but this was the book which trigger my life-long interest with Chinese and Tibetan culture. And so, I want to share with you the gift of one amazing author.
What books has Xinran published?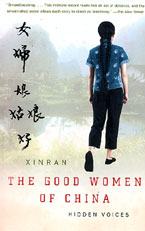 The Good Women of China (2003) -
For
eight groundbreaking years, Xinran presented a radio programme in China during which she invited women to call in and talk about themselves. Broadcast every evening, Words on the Night Breeze became famous through the country for its unflinching portrayal of what it meant to be a woman in modern China. Centuries of obedience to their fathers, husbands and sons, followed by years of political turmoil had made women terrified of talking openly about their feelings. Xinran won their trust and, through her compassion and ability to listen, became the first woman to hear their true stories.
This unforgettable book is the story of how Xinran negotiated the minefield of restrictions imposed on Chinese journalists to reach out to women across the country. Through the vivid intimacy of her writing, the women's voices confide in the reader, sharing their deepest secrets for the first time. Their stories changed Xinran's understanding of China forever. Her book will reveal the lives of Chinese women to the West as never before.
Sky Burial (2005) -
As a young girl in China Xinran heard a rumour about a soldier in Tibet who had been brutally fed to the vultures in a ritual known as a sky burial: the tale frightened and fascinated her. Several decades later Xinran met Shu Wan, a Chinese woman who had spent years searching for her missing husband who had been serving as a doctor in Tibet; her extraordinary life story would unravel the legend of the sky burial. For thirty years she was lost in the wild and alien landscape of Tibet, in the vast and silent plateaus and the magisterial mountain ranges, living with communities of nomads moving with the seasons and struggling to survive.
In this haunting book, Xinran recreates Shu Wen's remarkable journey in an epic story of love, loss, loyalty and survival. Moving, shocking and, ultimately, uplifting Sky Burial paints a unique portrait of a woman and a land, both at the mercy of fate and politics.
What the Chinese Don't Eat (2006) -
Since June 2003 Xinran has been writing about China in her weekly column in the Guardian. She has covered a vast range of topics from food to sex education, and from the experiences of British mothers who have adopted Chinese daughters, to whether Chinese people do Christmas shopping or have swimming pools.
Each of her columns inspired letters and questions and more opportunities for Xinran to shed light on the culture of her native land. What the Chinese Don't Eat collects these pieces together for the first time to give one unique Chinese woman's perspective on the connections and differences between the lives of British and Chinese people today.
Miss Chopsticks (2008) -
From the author of the bestselling The Good Women of China comes the uplifting story of three sisters who, like so many migrant workers in today's China, leave their peasant community to seek their fortune in the big city.
The Li sisters don't have much education, but one thing has been drummed into them: their mother is a failure because she hasn't managed to produce a son, and they themselves only merit a number as a name. Women, their father tells them, are like chopsticks: utilitarian and easily broken. Men, on the other hand, are the strong rafters that hold up the roof of a house. Yet when circumstances lead the sisters to seek work in distant Nanjing, the shocking new urban environment opens their eyes. While Three contributes to the success of a small fast-food restaurant, Five and Six learn new talents at a health spa and a bookshop/tearoom. And when the money they earn starts arriving back at the village, their father is forced to recognise that daughters are not so dispensable after all.
Xinran has become known for her wonderful ability to take readers to the heart of Chinese society. In this new book she tells not only a human story, but the story of a city. As the Li sisters discover Nanjing, so do we: its past, its customs and culture, and its future as a place where people can change their lives.
Chinese Witnesses: Voices of a Silent Generation (2008) -
China Witness is the personal testimony of a generation whose stories have not yet been told. Here the grandparents and great-grandparents of today sum up in their own words - for the first and perhaps the last time - the vast changes that have overtaken China's people over a century.
The book is at once a journey by the author through time and place, and a memorial to those who have lived through war and civil war, persecution, invasion, revolution, famine, modernization, Westernization - and have survived into the 21st century. We meet everyday heroes, now in their seventies, eighties and nineties, from across this vast country - a herb woman at a market, retired teachers, a legendary 'double-gun woman', Red Guards, oil pioneers, an acrobat, a female general, a lantern maker, taxi drivers, and more- those whose voices, as Xinran says, 'will help our future understand our past'.
Messages from an unknown Chinese Mother (2011) -
Message from an Unknown Chinese Mother is made up of the stories of Chinese mothers whose daughters have been wrenched from them, and also brings us the voices of some adoptive mothers from different parts of the world. These are stories which Xinran could not bring herself to tell previously - because they were too painful and close to home. In the footsteps of Xinran's Good Women of China, this is personal, immediate, full of harrowing, tragic detail but also uplifting, tender moments.
Ten chapters, ten women and many stories of heartbreak, including her own: Xinran once again takes us right into the lives of Chinese women - students, successful business women, midwives, peasants, all with memories which have stained their lives. Whether as a consequence of the single-child policy, destructive age-old traditions or hideous economic necessity... these women had to give up their daughters for adoption, others were forced to abandon them - on city streets, outside hospitals, orphanages or on station platforms - and others even had to watch their baby daughters being taken away at birth, and drowned. Here are the 'extra-birth guerrillas' who travel the roads and the railways, evading the system, trying to hold onto more than one baby; naive young student girls who have made life-wrecking mistakes; the 'pebble mother' on the banks of the Yangzte still looking into the depths for her stolen daughter; peasant women rejected by their families because they can't produce a male heir; and finally there is Little Snow, the orphaned baby fostered by Xinran but 'confiscated' by the state.
Has Verdict reviewed any of Xinran books?
I first stumbled across Xinran when visiting the place for all things books; Hay-on-Wye. Here, I found Sky Burial.
"
Xinran has rather wonderfully illustrated a tale of survival, love and adventure. The book articulates Shu Wen's journey, with the narrative alternating between the author's interview questions and Wen's responses with pure beauty. The descriptions are concise and the use of language acted like a painbrush in my mind, crafting the image of the glorious Tibetan landscape and communities...o
verall what makes this book stand out, it the eternal love and friendship between Kenjun and Wen –it is one that I think almost all of us would wish to experience in our lives. At the end of the book is a letter from the author to Wen asking if they can meet again; since their meeting, they had never been in contact. I can't help but wonder where she is now." Click HERE to read the full review.
Why does Verdict recommend Xinran Xue?
Sky Burial introduced me to Xinran Xue; her narrative and stories captured the struggle of women through different cultures and periods. Like many of her titles, Xinran gives these women a 'voice' and not just within their own country but internationally as well.
What I love the most about her books is her ability to transform the story into an adventure. Though the stories are essentially factual, it reads as though it's almost fictional. The characters and stories are so enthralling, you cannot help but immerse yourself into their lives.
The Chinese culture is not always favourable towards women (dare I say it boarders on misogynistic) and that is why I love Xinran; she has dared to tell accounts of women whom in their own country may never be given the time of day.